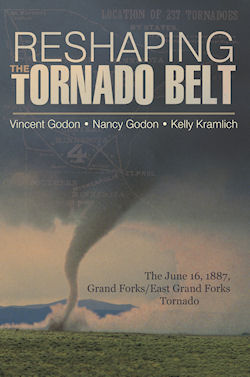 When a devastating tornado hit Grand Forks and East Grand Forks on June 16, 1887, nobody saw it coming. Even the United States Signal Service believed there was a northern limit for tornadoes in the United States. The frontier towns of Grand Forks and East Grand Forks were located about seventy-five miles north of Fargo, which was thought to be at the northern tip of the "Tornado Belt." Leaders of each town proudly claimed that their communities did not have to worry about the destructive power of tornadoes. The tornado of 1887 changed everything.
Reshaping the Tornado Belt discusses how:
*  Grand Forks and East Grand Forks evolved…
*  What happened when country schoolhouses were blown across the prairie with teachers and students trapped inside…
*  What the two shattered towns had to do in the aftermath of the tornado to rebuild their communities…
*  Eyewitness accounts of the tornado as it traveled twenty miles…
Full of maps and figures and painstakingly researched by three weather professionals, Reshaping the Tornado Belt tells an important story about how a horrific tornado challenged and reshaped two communities and changed how the world looks at tornadoes.