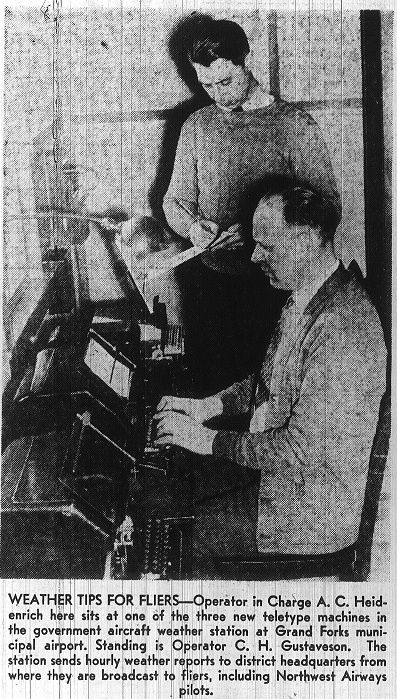 Teletypes Flash Hourly Weather Reports From Airport. 24-Hour Service Placed In Effect. Five Operators Employed Full Time. Teletype machines, newly-installed at Grand Forks municipal airport, furnish hourly reports of weather conditions in this area to mail and passenger airline pilots. Sixteen-hour service began a week ago and 24-hour service today. Set up in the communication station, operated under the civil aeronautics authority, are sending and receiving machines, manned by four trained men under the direction of A. C. Heidenreich, operator in charge.
Give Hourly Reports. Once each hour of the day and night, a Grand Forks operator punches out on the teletype the ceiling height, cloud formations, visibility, nature of precipitation if any, temperature, humidity, wind velocity and barometer – to keep fliers informed of conditions in this vicinity. And, once each hour, the district weather broadcasting station at Fargo, broadcasts to all points on the Chicago-to-Billings circuit, including Grand Forks, the reports it receives from all teletype stations in the northwest reporting zone. The Grand Forks station is tuned in constantly on 3105, the national aircraft frequency, for emergency calls from radio-equipped planes. It also is tuned, on another set, to the frequency of the Northwest Airways planes, which fly daily over the airport here. If a flier asks for information, the station can communicate with him in the air.
Have 5 Operators. Operating the station's equipment under Heidenreich's direction are Operators I. W. Lynch of Boston, R. F. DeFord of Battle Creek, Mich., C. H. Gustaveson of Duluth and R. L. Busch of Hager City, Wisc., formerly of Columbus, Ohio. Weather reporting stations on the Chicago-Billings circuit, besides Grand Forks, are Chicago, Milwaukee, Rockford, Madison, Hager City, Wisc., LaCrosse, Minneapolis, St. Paul, St. Cloud, Alexandria, Fargo, Pembina, Jamestown, Bismarck, Dickinson, Golva, Mont., Miles City and Billings. Chicago, LaCrosse, Minneapolis, Fargo and Bismarck, also are broadcasting stations for their respective districts. Operated by the government and with equipment owned by it, the station's facilities are available to any who seeks information. If not equipped with radio, he may stop at any teletype point and get weather reports of all points on the circuit.
Figure Air Ceiling. "Ceiling" is an important part of the weather report for every pilot. This is determined scientifically by the Grand Forks station and others in this loop. A searchlight 500 feet from the station is pointed at an angle toward the sky. The light makes a white spot on the clouds. A calibrated instrument at the station then is pointed directly at the spot. From the angle of the pointed instrument and the searchlight beam is calculated the height of the clouds. This furnishes the ceiling information desired by all aviators. The weather station is in the office building attached to the municipal airport hangar. Across the road to the east is the radio beam station, from which is operated the beam that airways planes ride to and from Grand Forks. Within the next two months, Heidenreich expects apparatus will be set up by which the beam may be operated by remote control from the weather station. (Grand Forks Herald, Sunday Morning, March 19, 1939, Page 18)