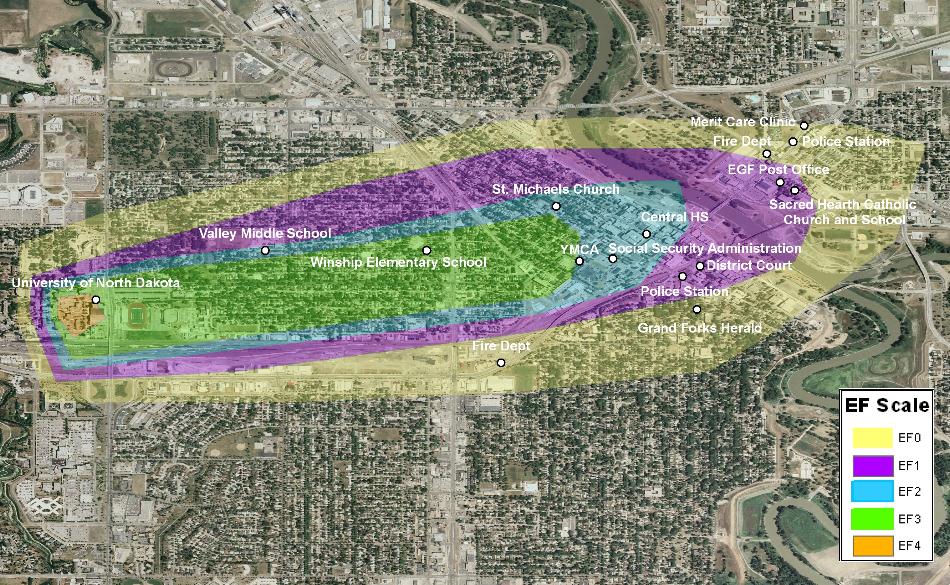 While not the only location affected by the storm of June 16, 1887, Grand Forks, ND and East Grand Forks, MN were certainly the most populous cities in the region and they arguably felt the greatest impact.
To try to understand and quantify the magnitude and devastation the tornado brought, it is helpful to look at today's perspective. To do this, the estimated storm track was overlaid on a 2006 aerial photograph of Grand Forks and East Grand Forks. The track is separated into different colors each representing a specific Enhanced Fujita (EF) Scale rating as noted in the legend. See the chart below for wind speeds associated with each rating.
Several well known public and business places are also plotted to get a feel for the establishments in the path. Specifically, the University of North Dakota campus would suffer a great deal of damage and destruction. A statistical analysis using the 2000 census population data for the area of interest revealed that approximately 12,000 people would be in the path of this storm.
These facts and figures give a brief glimpse into to power and destruction of this storm. It is hard to image the pain and despair the people who experienced the tornado of 1887 felt.
EF SCALE

EF Rating

3 Second Gust (mph)

0

65-85

1

86-110

2

111-135

3

136-165

4

166-200

5

Over 200