(Look below the image for the article text.)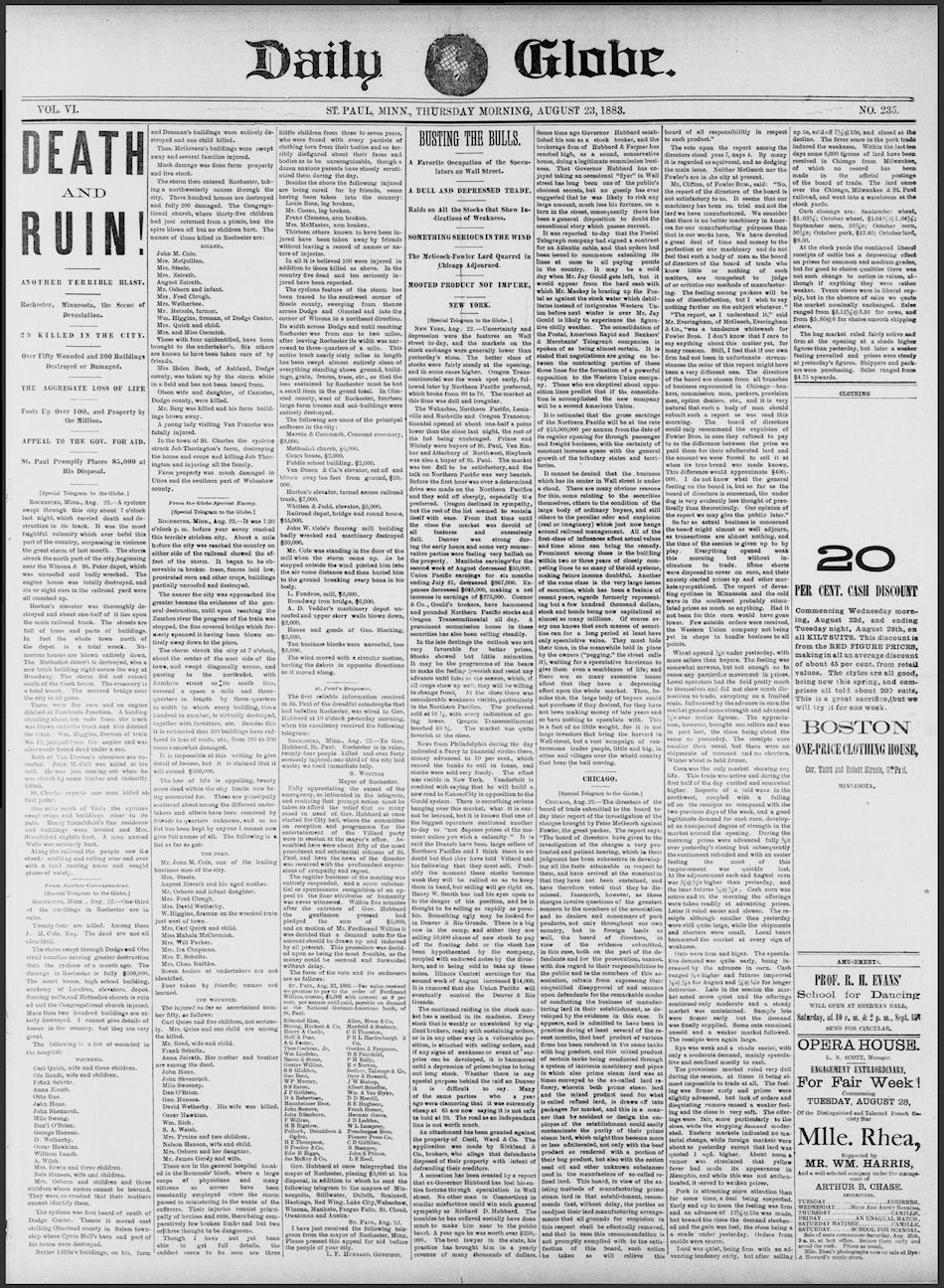 DEATH AND RUIN!  ANOTHER TERRIBLE BLAST.
Rochester, Minnesota, the Scene of Devastation. 
29 KILLED IN THE CITY.
Over Fifty Wounded and 300 Buildings Destroyed or Damaged.
 
THE AGGREGATE LOSS OF LIFE
 Foots Up Over 100, and Property by the Million.
APPEAL TO THE GOV. FOR AID.
St. Paul Promptly Places $5,000 at His Disposal.
[Special Telegram to the Globe.]
ROCHESTER, Minn., Aug. 22. – A cyclone swept through this city about 7 o'clock last night, which carried death and destruction in its track.  It was the most frightful calamity which ever befell this part of the country, surpassing in violence the great storm of last month.  The storm struck the north part of the city, beginning near the Winona & St. Peter depot, which was unroofed and badly wrecked.  The engine house was totally destroyed, and six or eight cars in the railroad yard were all smashed up.
Horton's elevator was thoroughly destroyed and about one-half of it lies upon the main railroad track.  The streets are full of trees and parts of buildings.  In fact the whole town north of the depot is a total wreck.  Numerous houses are blown entirely down.  The Methodist church is destroyed, also a new brick building right across the way at Broadway.  The storm did not extend south of the Cook house.  The creamery is a total wreck.  The covered bridge near the city is all gone.
There were five cars and an engine ditched at Zambrota Junction.  A building standing about ten rods from the track was blown onto the track and this ditched the train.  Wm. Higgins, the fireman of train No. 12, jumped from the engine and was afterwards found dead under a car.
Both of Van Deusen's elevators are unroofed.  John M. Call was killed at his mill.  He was just coming out when he was struck by some timber and instantly killed.
St. Charles reports one man killed at that point.
One mile north of Viola the cyclone swept crops and buildings clear in its path.  Henry Stanchfield's fine residence and buildings were leveled and Mrs. Stanchfield slightly hurt.  A man named Wells was seriously hurt.
Along the railroad the people saw the clouds seething and rolling over and over with a loud roaring noise and sought places of safetly.
From Another Correspondent.
[Special Telegram to the Globe.]
ROCHESTER, Minn., Aug. 22. – One-third of the dwellings in Rochester are in ruins.
Twenty-four are killed.  Among them J. M. Cole, Esq.  The dead are not all identified.
The storm swept through Dodge and Olmstead counties causing greater destruction than the cyclone of a month ago.  The damage in Rochester is fully $300,000.  The court house, high school building, academy of Loudres, elevators, depot, flouring mills, and Methodist church is ruined and the Congregational church injured.  More than two hundred buildings are utterly destroyed.   I cannot give details of losses in the country, but they are very great.
The following is a list of wounded in the hospital:
WOUNDED.
Carl Quick, wife and three children.
Ole Rendt, wife and children.
Frank Schutz.
Anna Zirath.
Otto Rue.
John Hone.
John Shennock.
Milo Swong.
Dan'l O'Brien.
George Hanson.
D. Wetherby.
Oscar Hawkins.
William Leach.
A. Wilch.
Mrs. Erwin and three children.
Nels Hanson, wife and children.
Mrs. Osborn and children and three children whose names cannot be learned.  They were so crushed that their mothers cannot identify them.
The cyclone was first heard south of Dodge Center.  Thence it moved east striking Olmstead county in Salem township where Cyrus Hall's barn and part of his house were destroyed.
Baxter Little's buildings, on his farm and Donman's buildings were entirely destroyed and one child killed.
Thos. McGovern's buildings were swept away and several families injured.
Much damage was done farm property and live stock.
The storm then entered Rochester, taking a northwesterly course through the city.  Three hundred houses are destroyed and fully 200 damaged.  The Congregational church, where thirty-five children had just returned from a picnic, had the spire blown off but no children hurt.  The names of those killed in Rochester are:
KILLED.
John M. Cole.
Mrs. McQuillan.
Mrs. Steele.
Mrs. Zeirath.
August Zeirath.
Mr. Osborn and infant.
Mrs. Fred Clough.
Mrs. Wetherbee.
Mr. Hetzcle, farmer.
Wm. Higgins, fireman, of Dodge Center.
Mrs. Quick and child.
Mrs. and Miss Cormick.
These with four unidentified, have been brought to the undertaker's.  Six others are known to have been taken care of by friends.
Mrs. Helen Beck, of Ashland, Dodge county, was taken up by the storm while in a field and has not been heard from.
Olson wife and daughter, of Canistee, Dodge county, were killed.
A young lady visiting Van Franche was fatally injured.
In the town of St. Charles the cyclone struck Job Thorington's farm, destroying the house and crops and killing Job Thorington and injuring all the family.
Farm property was much damaged in Utica and the southern part of Wabashaw county.
From the Globe Special Envoy.
[Special Telegram to the Globe.]
ROCHESTER, Minn., Aug. 22. – It was 7:30 o'clock p. m. before your envoy reached this terribly stricken city.  About a mile before the city was reached the country on either side of the railroad showed the effect of the storm.  It began to be observable in broken trees, fences laid low, prostrated corn and other crops, buildings partially unroofed and destroyed.
The nearer the city was approached the greater became the evidences of the general destruction, until upon reaching the Zumbro river the progress of the train was stopped, the fine covered bridge which formerly spanned it having been blown entirely away down to the piers.
The storm struck the city at 7 o'clock, about the center of the west side of the town, and swept diagonally across, and passing to the northwest, with Zumbrio street as its south line, covered a space a mile and three-quarters in length by three-quarters in width in which every building, three hundred in number, is virtually destroyed, together with furniture, etc.  Besides this it is estimated that 200 buildings have suffered in loss of roofs, etc., from 100 to 300 more somewhat damaged.
It is impossible at this writing to give detail of losses, but it is claimed that it will exceed $500,000.
The loss of life is appalling, twenty more dead within the city limits now being accounted for.  These are principally scattered among the different undertakers and others have been removed by friends to quarters unknown, and as no list has been kept by anyone I cannot now give names of all.  The following is a list as far as got:
THE DEAD.
Mr. John M. Cole, one of the leading business men of the city.
Mrs. Steele.
August Zierath and his aged mother.
Mr. Osborn and infant daughter.
Mrs. Fred Clough.
Mrs. David Wetherby.
W. Higgins, fireman on the wrecked train just west of town.
Mrs. Carl Quick and child.
Miss. Mahala McCormick.
Mrs. Will Parker.
Mrs. Ira Chapman.
Mrs. F. Schultz.
Mrs. Chas. Rathka.
Seven bodies at undertakers are not identified.
Four taken by friends; names not learned.
THE WOUNDED.
The injured so far as ascertained number fifty, as follows:
Carl Quies and five children, not seriously.  Mrs. Quies and one child are among the killed.
Mr. Reed, wife and child.
Frank Schultz.
Anna Zeirath.  Her mother and brother are among the dead.
John Hone.
John Shvenrock.
Milo Sweeney.
Dan O'Brien.
Geo. Hanson.
David Wetherby.  His wife was killed.
Oscar Hawkins.
Wm. Rich.
S. A. Welsh.
Mrs. Pruine and two children.
Nelson Hanson, wife and child.
Mrs. Osborn and her daughter.
Mr. James Gordy and wife.
These are in the general hospital located in the Rummels' block, where a large corps of physicians and many citizens as nurses have been constantly employed since the storm passed in ministering to the wants of the sufferers.  Their injuries consist principally of bruises and cuts, there being comparatively few broken limbs and but two or three thought to be dangerous.
Though I have not yet been able to get full details, the saddest scene to be seen are three little children from three to seven years, who were found with every particle of clothing torn from their bodies and so terribly disfigured about their faces and bodies as to be unrecognizable, though a dozen anxious parents have closely scrutinized them during the day.
Besides the above the following injured are being cared for by friends, some having been taken into the country:
Louie Rose, leg broken.
Mr. Coons, leg broken.
Franz Clemens, arm broken.
Mrs. McMaster, arm broken.
Thirteen others known to have been injured have been taken away by friends without leaving a record of names of nature of injuries.
In all it is believed 100 were injured in addition to those killed as above.  In the country five dead and ten seriously injured have been reported.
The cyclone feature of the storm has been traced to the southwest corner of Steele county, sweeping from thence across Dodge and Olmsted and into the corner of Winona in a northeast direction.  Its width across Dodge and until reaching Rochester was from one to two miles, after leaving Rochester its width was narrowed to three-quarters of a mile.  This entire track nearly sixty miles in length has been swept almost entirely clean of everything standing above ground, buildings, grain, fences, trees, etc., so that the loss sustained by Rochester must be but a small item in the grand total.  In Olmsted county, west of Rochester, fourteen large farm houses and out-buildings were entirely destroyed.
The following are some of the principal sufferers in the city:
Marvin & Cammack, Crescent creamery, $9,000.
Methodist church, $6,000.
Court house, $2,000.
Public school building, $2,000.
Van Dusen & Co.'s elevator, cut off and blown away ten feet from ground, $10,000.
Horton's elevator, turned across railroad track, $7,000.
Whitten & Judd, elevator, $5,000.
Railroad depot, bridge and round hose, $15,000.
John W. Cole's flouring mill building badly wrecked and machinery destroyed, $30,000.
Mr. Cole was standing in the door of the mill when the storm came up.  As he stepped outside the wind pitched him into the air some distance and then hurled him to the ground breaking every bone in his body.
L. Fondros, mill, $3,000.
Broadway iron bridge, $6,000.
A. D. Vedder's machinery depot unroofed and upper story walls blown down, $2,000.
House and goods of Geo. Slocking, $3,000.
Ten business blocks were unroofed, loss $5,000.
The wind moved with a circular motion, hurling the debris in opposite directions as it moved along.
Source:
The St. Paul Daily Globe
Thursday Morning, August 23, 1883
Volume VI, Number 235, Page 1