(Look below the image for the article text.)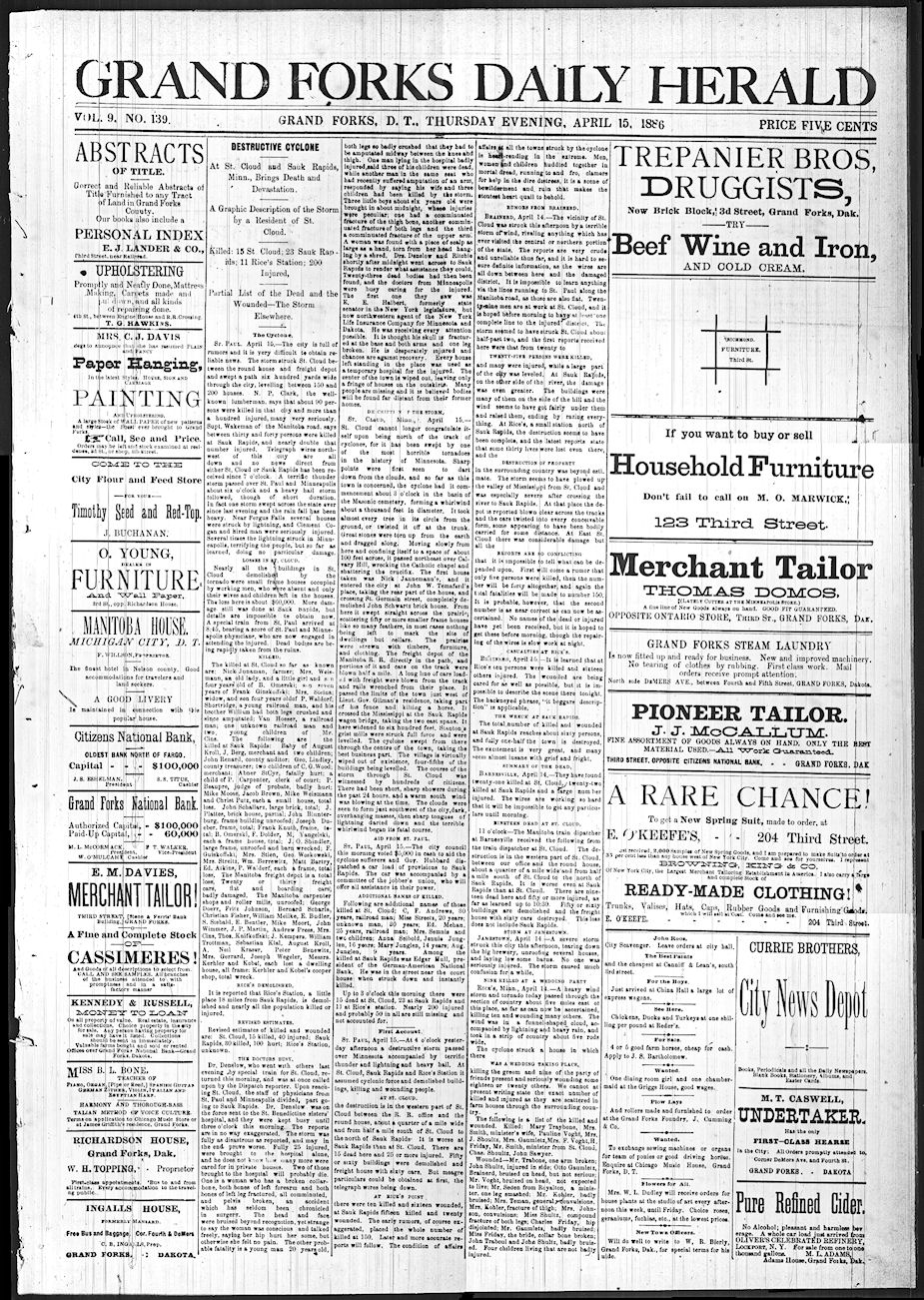 DESTRUCTIVE CYCLONE
At St. Cloud and Sauk Rapids, Minn., Brings Death and Devastation.
A Graphic Description of the Storm by a Resident of St. Cloud.
Killed:  15 St. Cloud; 23 Sauk Rapids; 11 Rice's Station; 200 Injured,
Partial List of the Dead and the Wounded – The Storm Elsewhere.
The Cyclone.
ST. PAUL, April 15. – The city is full of rumors and it is very difficult to obtain reliable news.  The storm struck St. Cloud between the round house and freight depot and swept a path six hundred yards wide through the city, leveling between 150 and 200 houses.  N. P. Clark, the well-known lumberman, says that about 90 persons were killed in that city and more than a hundred injured, many very seriously.  Supt. Wakeman of the Manitoba road, says between thirty and forty persons were killed at Sauk Rapids, and nearly double that number injured.  Telegraph wires northwest of this city are all down and no news direct from either St. Cloud or Sauk Rapids has been received since 7 o'clock.  A terrific thunder storm passed over St. Paul and Minneapolis about six o'clock and a heavy hail storm followed, though of short duration.  In fact one storm swept across the state over since last evening and the rain fall has been heavy.  Near Fergus Falls several houses were struck by lightning, and Clement Cogan and hired man were seriously injured.  Several times the lightning struck in Minneapolis, terrifying the people, but so far as learned, doing no particular damage.
LOSSES IN ST. CLOUD.
Nearly all the buildings in St. Cloud demolished by the tornado were small frame houses occupied by working men, who were absent and only their wives and children left in the houses.  The loss here is about $60,000.  More damage still was done at Sauk Rapids, but details are impossible to obtain now.  A special train from St. Paul arrived at 8:45, bearing a score of St. Paul and Minneapolis physicians, who are now engaged in attending the injured.  Dead bodies are being rapidly taken from the ruins.
KILLED.
The killed at St. Cloud so far as known are:  Nick Junaman, farmer; Mrs. Weismann, an old lady, and a little girl and son four years old of B. Omerski; son seven years old of Frank Ginskodski; Mrs. Steina; widow, and son four years old of P. Waldorf; Shortridge, a young railroad man, and his brother William had both legs crushed and since amputated; Van Hoeser, a railroad man; one unknown railroad man and two young children of Mr. Cins.  The following are the killed at Sauk Rapids:  Baby of August Kroll, J. Berg, merchant and two children; John Renard, county auditor; Geo. Lindley, county treasurer; two children of C. G. Wood; merchant; Abner St. Cyr, fatally hurt; a child of P. Carpenter, clerk of court; P. Beaupre, judge of probate, badly hurt; Mike Moose, Jacob Brown, Mike Weismann and Christ Putz, each a small house, total loss.  John Schallarz, large brick, total; J. Plattes, brick house partial; John Blunterburg, frame building unroofed; Joseph Dueber, frame, total; Frank Knuth, frame, total; B. Omerski, F. Dolder, M. Yangelski, each a frame house, total; J. O. Shindler, large frame, unroofed and barn wrecked; F. Guiskoffski, Mrs. Stien, Geo. Woskowski, Mrs. Streitz, Wm. Berrewitz, Matt Bartry, Ed. Atkins, P. Walderf, each a frame, total loss.  The Manitoba freight depot is a total loss.  Twenty or thirty freight cars, flat and boarding cars badly damaged.  The Manitoba carpenter shops and roller mills, unroofed; George Doerr, Fritz Johnson, Bernard Scharla, Christian Fisher, William Meilke, E. Budler, S. Siebald E. Bentler, Mike Moort, John Wimmer, J. P. Martin, Andrew Press, Mrs. Cins, Thos. Knifkoffski; J. Kempers, William Trottman, Sebastian Klal, August Kroll, A. Neil Kraser, Peter Benewitz, Mrs. Gerrard, Joseph Wegeler, Messrs. Kerhler and Kobel, each lost a dwelling house, all frame; Kerhler and Kobel's cooper shop, total wreck.
RICE'S DEMOLISHED.
It is reported that Rice's Station, a little place 18 miles from Sauk Rapids, is demolished and nearly all the population killed or injured.
REVISED ESTIMATES.
Revised estimates of killed and wounded are:  St. Cloud, 15 killed, 40 injured; Sauk Rapids, 30 killed, 100 hurt; Rice's Station, unknown.
THE DOCTORS BUSY.
Dr. Denslow, who went with others last evening by special train for St. Cloud, returned this morning, and was at once called upon by the Dispatch reporter.  Upon reaching St. Cloud, the staff of physicians from St. Paul and Minneapolis divided, part going to Sauk Rapids.  Dr. Denslow was on the force sent to the St. Benedicting sisters' hospital, and they were kept busy until three o'clock this morning.  The reports are in no way exaggerated.  The storm was fully as disastrous as reported, and may in the end prove worse.  Fully 25 injured, were brought to the hospital alone, and he does not know how many more were cared for in private houses.  Two of those brought to the hospital will probably die.  One is a woman who has a broken collarbone, both bones of left forearm and both bones of left leg fractured, all comminuted, and pelvis broken, an accident which has seldom been chronicled in surgery.  The head and face were bruised beyond recognition, yet strange to say the woman was conscious and talked freely, saying her hip hurt her some, but otherwise she felt no pain.  The other probable fatality is a young man 20 years old, both legs so badly crushed that they had to be amputated midway between the knee and thigh.  One man lying in the hospital badly injured, said three of his children were dead, while another man in the same seat who had recently suffered amputation of an arm, responded by saying his wife and three children had been killed by the storm.  Three little boys about six years old were brought in about midnight, whose injuries were peculiar; one had a comminuated fracture of the thigh bone, another comminuated fracture of both legs and the third a comminuated fracture of the upper arm.  A woman was found with a piece of scalp as large as a hand, torn from her head hanging by a shred.  Drs. Denslow and Ritchie shortly after midnight went across to Sauk Rapids to render what assistance they could.  Twenty-three dead bodies had then been found, and the doctors from Minneapolis were busy caring for the injured.  The first one they saw was E. E. Halbert, formerly state senator in the New York legislature, but now northwestern agent of the New York Life Insurance Company for Minnesota and Dakota.  He was receiving every attention possible.  It is thought his skull is fractured at the base and both arms and one leg broken.  He is desperately injured and chances are against recovery.  Every house left standing in the place was used as a temporary hospital for the injured.  The center of town is wiped out, leaving only a fringe of houses on the outskirts.  Many people are missing and it is believed bodies will be found far distant from their former homes.
DESCRIPTION OF THE STORM.
ST. CLOUD, Minn., April 15. – St. Cloud cannot longer congratulate itself upon being north of the track of cyclones, for it has been swept by one of the most horrible tornadoes in the history of Minnesota.  Sharp points were first seen to dart down from the clouds, and so far as this town is concerned, the cyclone had its commencement about 3 o'clock in the basin of the Masonic cemetery, forming a whirlwind about a thousand feet in diameter.  It took almost every tree in its circle from the ground, or twisted it off at the trunk.  Great stones were torn up from the earth and dragged along.  Moving slowly from here and confining itself to a space of about 100 feet across, it passed northeast over Calvary Hill, wrecking the Catholic chapel and shattering the crucifix.  The first house taken was Nick Jannemann's, and it entered the city at John W. Temaford's place, taking the rear part of the house, and crossing St. Germain street, completely demolished John Schwartz brick house.  From here it swept straight across the prairie; scattering fifty or more smaller frame houses like so many feathers, in most cases nothing being left to mark the site of dwellings but cellars.  The prairies were strewn with timbers, furniture, and clothing.  The freight depot of the Mantoba R. R. directly in the path, and portions of it and cars on the track were blown half a mile.  A long line of cars loaded with freight were blown from the track and rails wrenched from their place.  It passed the limits of the town just west of Lieut. Gov. Gilman's residence, taking part of his fence and killing a horse.  It crossed the Mississippi at the Sauk Rapids wagon bridge, taking the two east spans.  It here widened to six hundred feet.  Stanton's grist mills were struck full force and were leveled.  The cyclone swept from there through the centre of the town, taking the best business part.  The village is virtually wiped out of existence, four-fifths of the buildings being leveled.  The course of the storm through St. Cloud was witnessed by hundreds of citizens.  There had been short, sharp showers during the past 24 hours, and a warm south wind was blowing at the time.  The clouds were seen to form just southwest of the city, dark, overhanging masses, then sharp tongues of lightning darted down and the terrible whirlwind began its fatal course.
AID FROM ST. PAUL.
ST. PAUL, April 15. – The city council this morning voted $5,000 in cash to aid the cyclone sufferers and Gov. Hubbard dispatched a car load of provisions to Sauk Rapids.  The car was accomplished by a committee of the jobber's union, who will offer all assistance in their power.
ADDITIONAL NAMES OF KILLED.
Following are addition names of those killed at St. Cloud:  C. F. Andrews, 30 years, railroad man; Miss Streetz, 20 years; unknown man, 30 years; Ed. Mehan, 25 years, railroad man; Mrs. Semnis and two children; Anna Seibold, Jennie Junglen, 16 years; Mary Junglen, 14 years; Aug. Junglen, 9 years.  Among the killed at Sauk Rapids was Edgar Hull, president of the German-American National Bank.  He was in the street near the court house when struck down and instantly killed.
Up to 3 o'clock this morning there were 15 dead at St. Cloud, 23 at Sauk Rapids and 11 at Rice's station.  Nearly 200 injured and probably 50 in all are still missing and not accounted for.
First Account.
ST. PAUL, April 15. – At 4 o'clock yesterday afternoon a destructive storm passed over Minnesota accompanied by terrific thunder and lightning and heavy hail.  At St. Cloud, Sauk Rapids and Rice's Station it assumed cyclonic force and demolished buildings, killing and wounding people.
AT ST. CLOUD,
The destruction is in the western part of St. Cloud between the R. R. office and the round house, about a quarter of a mile wide and from half a mile south of St. Cloud to the north of Sauk Rapids.  It is worse at Sauk Rapids than at St. Cloud.  There are 15 dead and 25 or more injured.  Fifty or sixty buildings were demolished and freight house with sixty cars.  But meager particulars could be obtained at first, the telegraph wires being down.
AT RICE'S POINT
there were ten killed and sixteen wounded, at Sauk Rapids fifteen killed and twenty wounded.  The early rumors, of course exaggerated, placed the whole number of killed at 150.  Later and more accurate reports will follow.  The condition of affairs at all the towns struck by the cyclone is heart-rending in the extreme.  Men, women and children huddled together in mortal dread, running to and fro, clamors for help in the dire distress, it is a scene of bewilderment and ruin that makes the stoutest heart quail to behold.
RUMORS FROM BRAINERD.
BRAINERD, April 14. – The vicinity of St. Cloud was struck this afternoon by a terrible storm of wind, rivaling anything which has ever visited the central or northern portion of the state.  The reports are very crude and unreliable thus far, and it is hard to secure definite information, as the wires are all down between here and the damaged district.  It is impossible to learn anything via the lines running to St. Paul along the Manitoba road, as those are also flat.  Twenty-nine men are at work at St. Cloud, and it is hoped before morning to have at least one complete line to the injured district.  The storm seemed to have struck St. Cloud about half-past two, and the first reports received here were that from twenty to
TWENTY-FIVE PERSONS WERE KILLED,
and many were injured, while a large part of the city was leveled.  At Sauk Rapids, on the other side of the river, the damage was even greater.  The buildings were many of them on the side of the hill and the wind seems to have got fairly under them and raised them, ending by razing everything.  At Rice's, a small station north of Sauk Rapids, the destruction seems to have been complete, and the latest reports state that some thirty lives were lost even there, and the 
DESTRUCTION OF PROPERTY
in the surrounding country was beyond estimate.  The storm seems to have plowed up the valley of Mississippi from St. Cloud and was especially severe after crossing the river to Sauk Rapids.  At that place the depot is reported blown clear across the tracks and the cars twisted into every conceivable form, some appearing to have been bodily carried for some distance.  At East St. Cloud there was considerable damage but all the
REPORTS ARE SO CONFLICTING
that it is impossible to tell what can be depended upon.  First will come a rumor that only five persons were killed, then the number will be forty altogether, and again the total fatalities will be made to number 150.  It is probable, however, that the second number is as near correct as can now be ascertained.  No names of the dead or injured have yet been received, but it is hoped to get these before morning, though the repairing of the wires is slow work at night.
CASUALTIES AT RICE'S.
BRAINERD, April 15. – It is learned that at Rice's ten persons were killed and sixteen others injured.  The wounded are being cared for as well as possible, but it is impossible to describe the scene there tonight.  The hackneyed phrase, "it beggars description" is applicable.
THE WRECK AT SAUK RAPIDS.
The total number of killed and wounded at Sauk Rapids reaches about sixty persons, and fully one-half the town is destroyed.  The excitement is very great, and many seem almost insane with grief and fright.
SUMMARY OF THE DEAD.
BARNESVILLE, April 14. – They have found twenty-one killed at St. Cloud, twenty-two killed at Sauk Rapids and a large number injured.  The wires are working so hard that it will be impossible to get any particulars until morning.
NINETEEN DEAD AT ST. CLOUD.
11 o'clock – The Manitoba train dispatcher at Barnesville received the following from the train dispatcher at St. Cloud.  The destruction is in the western part of St. Cloud, between our office and the round house, about a quarter of a mile wide and from half a mile south of St. Cloud to the north of Sauk Rapids.  It is worse even at Sauk Rapids than at St. Cloud.  There are nineteen dead here and fifty or more injured, as far as learned up to 10:30.  Fifty or sixty buildings are demolished and the freight house with sixty cars destroyed.  This loss does not include Sauk Rapids.
STORM AT JAMESTOWN.
JAMESTOWN, April 14. – A severe storm struck this city this afternoon, tearing down the big brewery, unroofing several houses, and laying low some barns.  No one was seriously injured.  The storm caused much confusion for a while.
NINE KILLED AT A WEDDING PARTY
RICE'S, Minn., April 14. – A heavy wind storm and tornado today passed through the section of country about five miles east of this place, as far as now be ascertained, killing ten and wounding many others.  The wind was in a funnel-shaped cloud, accompanied by lightning and heavy rain, and took in a strip of country about five rods wide.
The cyclone struck a house in which there
WAS A WEDDING TAKING PLACE,
killing the groom and nine of the party of friends present and seriously wounding some eighteen or twenty others.  We cannot at present writing state the exact number of killed and injured as they are scattered in farm houses through the surrounding country.
The following is a list of the killed and wounded.  Killed:  Mary Traybone, Mrs. Smith, minister's wife, Pauline Voght, Mrs. J. Shoultz, Mrs. Gaumletz, Mrs. F. Voght, H. Friday, Mr. Smith, minister from St. Cloud, Chas. Shoultz, John Sawyer.
Wounded – Mr. Trabone, one arm broken; John Shultz, injured in side; Otto Gaumletz, Brainerd, bruised on head, but not serious; Mr. Voght, bruised on head, not expected to live; Mr. Seden from Royalton, a minister, one leg smashed; Mr. Kohler, badly bruised; Mrs. Teman, general convulsions, Mrs. Kohler, fracture of thigh; Mrs. Johnson, convulsions; Miss Shultz, compound fracture of both legs; Charles Friday, hip disjointed; Mr. Gaumletz, badly bruised; Miss Friday, the bride, collar bone broken; John Traboul and John Shultz, badly bruised.  Four children living that are not badly injured.